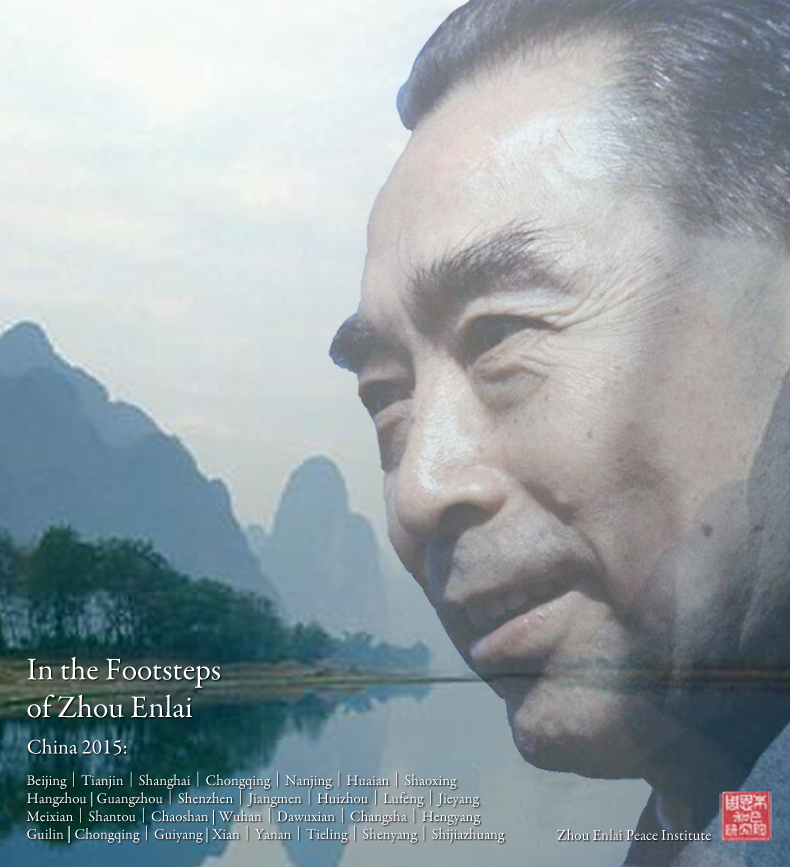 Introduction
History is always rooted in the personal: it is a story told by an author with an individual voice, about the people, places and events that shape our world.
"In the Footsteps of Zhou Enlai" is a story never before heard, following the life journey of Zhou Enlai, one of the great figures of modern history.
Zhou Enlai made vital contributions to peace. As the first Foreign Minister, one of the authors of the Chinese Constitution, and as Premier of China for 26 years, he opened the face of his nation to the world. He established China's top priority: unity for its people, and friendship with all nations.
The details of this achievement form a gripping narrative of revolution, intrigue, idealism, service, sacrifice, passion, life and death.
It is a story vital to understanding the role of China in the 21st Century.
__________________________________________________________________
A small number of people have made transforming contributions to peace in the past 100 years.  Without them, key events in history might have unfolded differently. Among these giants are Mahatma Gandhi, who brought freedom to India with non-violence; Nelson Mandela, who liberated South Africa with reconciliation; and Martin Luther King, who set the highest standard for equality in America.
And Zhou Enlai, from modern China — who wrote the Five Principles of Peace, who stood for understanding, balance, respect and dialogue in a time of turbulence and transformation for the world's largest nation.
His contribution to peace is just as significant, for its time, place and historical context, as Gandhi, Mandela and King; but the name of Zhou Enlai is not yet understood in the same light as these giants of history.
The Zhou Enlai Peace Institute is changing that perception.
Our research and storytelling project, "In the Footsteps of Zhou Enlai," is a key catalyst of that change. Since its formal establishment in August 2011, the Zhou Enlai Peace Institute, together with international peace organizations around the world, has worked to create a deeper understanding of the spirit of Zhou Enlai, to expand his importance in the eyes of the world.
__________________________________________________________________
"Footsteps" will be released as a powerful, personal documentary film. It will also be published as an illustrated book of photography and stories, both in print and electronic forms, simultaneously in China and the United States.
Ranging across 22 key sites in China, through Asia, the Middle East and Africa, "Footsteps" will disclose, for the first time, the full breadth and drama of Zhou Enlai's life, and will reveal a vision of China that is rarely seen.
"Footsteps" is produced by the Zhou Enlai Peace Institute, an American non-profit organization, with the assistance of many friends and allies in China and the United States.
It is an intimate, personal portrait of Zhou Enlai, seen through the eyes of the people who knew him best. All the major places in his life will be visited, from before his birth in 1898 in Huaian to his passing in Beijing in 1976. "Footsteps" will feature conversations with people who knew Zhou Enlai personally, who witnessed history unfold, intense stories of courage and principle, many of them never told before. Their voices, faces, and the special places they know will be shared with the world for the first time, with video, audio, photography and music.
"Footsteps" is working with the Zhou family, and with many homes, libraries and memorials dedicated to Zhou Enlai throughout China. The project is funded by private individuals and companies in both China and the United States, and speaks with an independent voice. A small crew, consisting of the writer-producer, a film producer and researcher, will travel among all the historic sites, largely overland by car and by train.
__________________________________________________________________
A survey of several of the major sites began in May, 2012, and included key locations in Beijing; Tianjin; Xian; Huaian, Guangzhou, Nanjing and Shanghai.
These sites will be revisited in two major tours in May and October, 2015, adding Chongqing, Shaoxing, Mei Jia Wu, Hangzhou, Nanchang, Ruijin, Jiangmen, Jieyang, Shantou, Wuhan, Da Wu Village, Yanan, Tieling, Shenzhen, Hong Kong and Shenyang and ranging across the provinces of Hebei, Liaoning, Jiangsu, Zhejiang, Jiangxi, Shandong, Hubei, Guangdong, Guizhou, Shanxi and Guangxi.
The international phase of the project will be produced in spring 2016, visiting New York, Tokyo, Osaka, Singapore, Hanoi, Kuala Lumpur, Djakarta, Bandung, Burma, New Delhi, Nepal, Turkey, Egypt, Paris, London, Berlin, Geneva, Ghana, Kenya, Tanzania and other sites.
__________________________________________________________________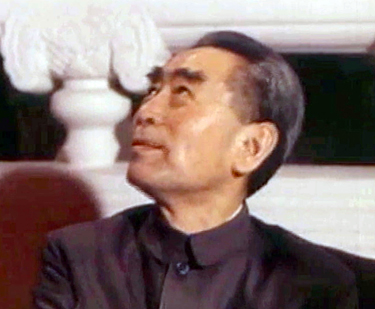 The message of "Footsteps" is simple: to tell stories, share sounds and images, of China's great peacemaker in a direct, personal way that will be easily understood by everyone. The direction of China as an international leader for peace was originally set by Zhou Enlai. He guided his nation through difficult times, protecting the lives of millions of people; this project shows how that direction endures and is extended.
The life of Zhou Enlai is an example of dignity, non-violence and strength to which the people and leadership of China today aspire. His stories illumine the perception of China from within, as seen through Chinese eyes, and are part of bringing Zhou Enlai's vision to life: leadership for peace, and friendship among all nations.
The story of Zhou Enlai is the untold, personal story of the emergence of modern China. He laid the foundation for the China of today. Looking back with understanding, we may also look forward with insight.
__________________________________________________________________
The Footsteps Book and Film Production Sites, 2015:
Zhou Enlai Residence, Shanghai | Meiyuan Memorial, Nanjing
Zhou Enlai Birth Place Zhou Enlai Memorial, Huaian | Zhou Enlai Childhood Study Place
Zhou Enlai Youth Study Place | Ancestral Home of Zhou Family, Shaoxing
Mei Jia Wu Memorial | Huangpu Military Academy | Zhou Enlai Exhibition Hall, Shenzhen
Zhou Enlai Memorial, Jiangmen | Huizhou Memorial | Zhou Enlai Monument, Lufeng
Zhou Enlai Work Place, Jieyang | Ye Jianying Memorial, Meixian
Shangtong Exhibition Han Bi Lou, Chaoshan
Nanchang 8.1 Uprising Memorial | Central Revolutionary Base Museum
Chinese Army Memorial Site, Wuhan | 1946 Zhou & Jiang Negotiation Site
Chinese Army, Hunan Office | Revolutionary Memorial, Hangyang
Chinese Army Memorial, Guilin | Hong Yan Revolutionary Memorial
Zun Yi Conference Memorial | Si Du Chi Shui Memorial | Beijing West Flower Hall
Zhou Enlai Deng Yingchao Memorial, Tianjin | Nankai Middle School, Tianjin
Nankai University, Tianjin | Awareness Association, Tianjin | Xian Incident Memorial
Yan An Revolutionary Memorial | Xi Bai Po Memorial | Zhou Enlai Youth Study Place, Tieling
Zhou Enlai Youth Study Place, Shenyang | Premier Zhou Enlai Memorial, Xinjiang
"In the Footsteps of Zhou Enlai"
film and book sponsored by
The Zhou Enlai Peace Institute
http://www.zhouenlaipeaceinstitute.org
Co-Producer:
Bai Hui International, Shanghai
http://www.bestway.cn
Producers:
Xiaofang Zhou North, Michael North
Camera, Technical: David Castellano
Thank You:
Organizations:
Director Xie Yuan, Chinese People's Association
for Friendship with Foreign Countries
Liao Xinwen, Li Ching Ping, Zhou Enlai Study Center, CCCPC
Ji Ming, Zhou Enlai Residence, Shanghai
Wang Huaxu, Curator; Memorial of Meiyuan New Village, Nanjing
Zhang Jin, Li Shao, Zhou Enlai National Memorial, Huaian
Kang Jinfeng, Zhou Enlai-Deng Yingchao Memorial, Tianjin
Ji Yaguang, Nankai University, Tianjin
Xu Xing, Zhou Enlai Study Center, Nankai University
Li Qikeng, Confucius Institute of China
Cynthia Ning, Confucius Institute, University of Hawaii
Individuals:
Mme. Zhou Bingde
Yian Jiehe, Huatuo Institute, Huaian
Li Aihua
Zhong Rong
Sun Xiaodan
Angela Wong (Wu Jiabao)
Chen Hanchu
Sister Joan Chatfield
Roger Epstein
---