April 13, 2017 – Huaian
On April 13th, 2017, Beijing MOZE International Culture Development Co., Ltd. and the Zhou Enlai Peace Institute signed a cooperation agreement at Zhou Enlai Memorial Hall in Zhou's hometown Huai'an, Jiangsu province. Sticking to its mission, MOZE will carry out active cooperation with the Zhou Enlai Peace Institute and spread Premier Zhou's universal love to the world.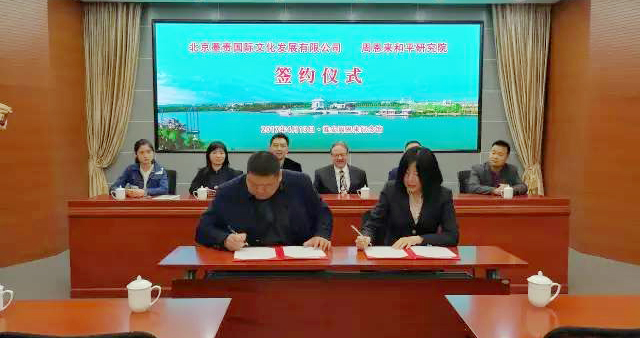 Mr. Lin Fanlin, CEO of MOZE and Ms. Zhou Xiaofang, founder of Zhou Enlai Peace Institute at the signing ceremony
The Zhou Enlai Peace Institute is founded by Ms. Zhou Xiaofang, granddaughter of Zhou Enlai's brother. As an honored and distinguished figure in modern Chinese history, Zhou Enlai has made significant contribution to China as well as the world peace. From 1949 to 1976, serving as the Premier and Foreign Minister of China, Zhou Enlai ushered China into a new era and set a grand goal for human beings: friendship among people around the world.
Attending the signing ceremony are Mr. Zhou Qing, brother of Ms. Zhou Xiaofang, Michael North, President of Asia-PacificGroup (U.S.), Zuo Renjun, General Manager of Nanjing LocaTran Translations and officialsfrom the Huai'an government and local universities.